While studying French at UC Santa Barbara, I knew that though my essays may have been technically accurate, I'd never achieve the fluency level I wanted without spending time in a French-speaking territory. The need for immersion is both the reason I went abroad and the reason I was able to do so.

In lieu of my university's expensive study abroad program, in which I would take a course load of classes I didn't need and come out in debt, I was determined to make money while abroad. After doing some research, I discovered NACEL's American Village, and thus my career in TESOL began.
NACEL's American Village is an immersive English summer camp for French children. It aims to recreate an American summer camp and improve campers' English levels with two hours of daily EFL instruction.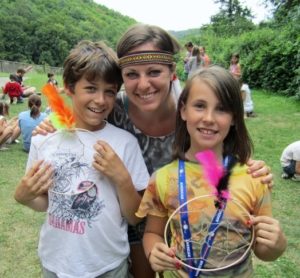 As any camp counselor knows, it isn't easy work. I chose EFL teaching as my emphasis, which meant I was responsible for lesson planning and teaching those two hours a day, on top of participating in the many other daily activities, crafts, and sports. Though each day is exhausting, it is incredibly rewarding to teach a lesson about baseball in class, and then see your students using the new vocabulary on the baseball diamond that afternoon. It is also endlessly entertaining to play baseball with a group of kids who have hardly heard of it, and never seen it played.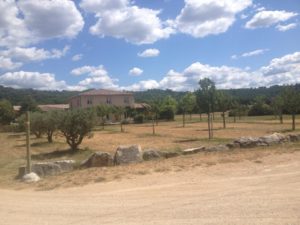 How it works:
Counselors are provided room and board, plus a stipend. For me it was around $1,000, but check for current rates.
Language counselors (from English speaking countries) generally work from approx. 8am-8pm and French counselors are responsible for the children overnight.
You have one day off per week.
The camp locations are semi-isolated, as a large campus that can accommodate camp activities is required. I spent one session (one month) in Provence and one in the Rhone-Alpes (near Vienne).
Campers stay for a full week.
Check out the video on this page, filmed at the Aurabelle location in Provence.
No French is to be spoken by any counselor outside of an emergency situation.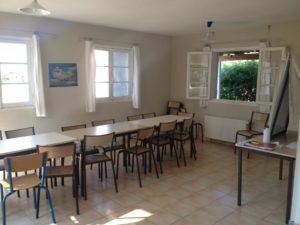 EFL Class:
Two hours of EFL class per day.
Some materials (worksheets) and suggested activities available.
Low-tech classrooms, whiteboard and art supplies.
Generally, I spent first hour on new material, second hour doing an activity or game with the aggregate material learned so far.
There are many opportunities to make the English learned in class meaningful if you plan your lessons with the camp schedule in mind. Students appreciate practical lessons such as meal vocabulary and table manners as they know they will need it on a daily basis.
You must be flexible and have back-up activities prepared, more tips about teaching in France here.
Fall back games: pictionary, Simon Says (Jacques a dit in French), Hangman (Pendu in French).
On my days off, I was able to travel to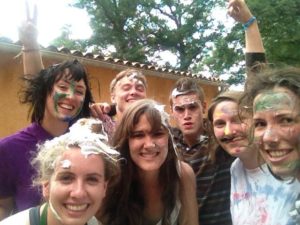 nearby towns and cities such as Marseille, Vienne, and Lyon. After finishing my contract with American Village, I spent time in Paris. If you budget well while working, which is easy to do as your room and board are covered, you will have enough euros in your French bank account to travel for at least a week before returning home. I would certainly recommend American Village to anyone looking to get experience teaching English, learn about French culture from adorable French children, and make lifelong friends with counselors from France and from other English-speaking countries. If you're willing to work hard and you don't take yourself too seriously, this is the summer job for you.